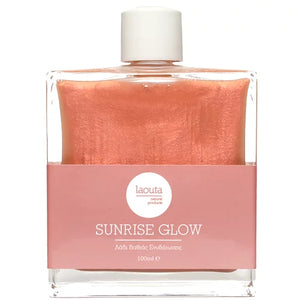 honeyfashionstore
Sunrise Glow "Silica Free"
Regular price
€20,00
€0,00
Unit price
per
Tax included.
Το sunrise glow είναι ένα ξηρό λάδι με πλούσια σύνθεση θρεπτικών ελαίων που ενυδατώνουν το δέρμα δίνοντας μία φυσική περλέ λάμψη.
Είναι ένα λαμπερό λάδι με ευχάριστο άρωμα από αιθέρια έλαια περγαμόντου,άρωμα βανίλια και τριαντάφυλλο.
​99% natural  
Aromatherapy oil
 Certified Vegan | GMO Free | Cruelty Free
​Made in Greece 
Εκχύλισμα άνθους Ελίχρυσου: Ο Ελίχρυσος είναι πολύ ωφέλιμος για το δέρμα, συμβάλει στην προώθηση του υγιούς και λαμπερού δέρματος και την κυτταρική αναγέννηση.
Ισχυρό ενυδατικό μίγμα: Το ελαιόλαδο, το αμυγδαλέλαιο και τo βερυκοκέλαιο είναι ένα ισχυρό ενυδατικό μίγμα φυτικών ελαίων.
Αιθέριο έλαιο Περγαμόντο: To Περγαμόντο Καταπραΰνει το δέρμα και ρυθμίζει την λιπαρότητα.
Σώμα
Ενυδατικό έλαιο σώματος: Απλώστε σε ολόκληρο το σώμα σας για άμεση ενυδάτωση και λάμψη!  Ελαφρύ, απορροφητικό και ξηρό έλαιο. Για καλύτερα αποτελέσματα, εφαρμόστε δύο φορές την ημέρα σε περιοχές που χρειάζονται έξτρα περιποίηση.
Πρόσωπο
Για  λάμψη στις γωνίες του προσώπου απλώστε μικρή ποσότητα σε καθαρό δέρμα ή πάνω από το make up! Φυσικά λαμπερό πρόσωπο, η απόλυτη τάση του μακιγιάζ!
helichrysum, olive oil, almond oil, coconut fractionated, apricot oil, avocando oil,mica.
slightly scented with bergamot, vanilla and rose.
 99% Natural product, handmade in Greece
​No synthetic colors, preservatives.
---
Share this Product
---